Little Pappasito's
2536 Richmond at Kirby, Houston, TX 77098
(713) 520-5066
10:00:00
22:00:00
1
22:00:00
00:00:00
0
11:00:00
22:00:00
1
22:00:00
00:00:00
0
11:00:00
22:00:00
1
22:00:00
00:00:00
0
11:00:00
22:00:00
1
22:00:00
00:00:00
0
11:00:00
22:00:00
1
22:00:00
00:00:00
0
11:00:00
23:00:00
1
23:00:00
00:00:00
0
10:00:00
23:00:00
1
23:00:00
00:00:00
0
sunday
10:00 a.m. – 10:00 p.m.
mon – thur
11:00 a.m. – 10:00 p.m.
friday
11:00 a.m. – 11:00 p.m.
saturday
10:00 a.m. – 11:00 p.m.


With Pappasito's to-go, it's easy to bring the fun, flavor,
and sizzle to any event or party.
Call your order in at:
(713) 520-5066

Place a custom To-Go order from the full menu or choose one of these pre-assembled Party Packs to make planning a snap. Click on the Packs below to learn more about each.
Fajita Packs

These party packs combine tender aged beef and chicken fajitas with all of the trimmings at a great value. Each of the party packs are served with guacamole, pico de gallo, sour cream, cheddar cheese, grilled onions, rice, frijoles a la charra, fresh flour tortillas, chips & salsa.
Fiesta Packs

Loaded with flavor, our Fiesta packs combine tender slow-smoked pork ribs with Brochette-style shrimp, mesquite-grilled quail, jalapeño sausage links, beef & chicken fajitas at a great value.
Enchilada & Taco Packs

Convenient packs of enchiladas or tacos are each served with rice, beans, chips & salsa. Enchilada packs are available in your choice of chicken, beef or cheese. Taco packs are available in chicken or beef.
Chip & Dip Packs

No party is complete without chips & dip. Our packs include freshly made salsa, queso and more than enough chips to scoop it all up. Guacamole and Creamy Avocado are available as add-ons.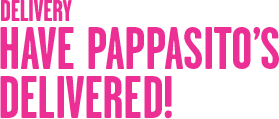 Perfect for your next business meetings, conferences or special event - we'll bring your Pappasito's favorites straight to you. Our delivery staff will unload and display your order buffet-style in disposable aluminum containers, so you don't have to worry about a thing. Order minimums apply.
For Delivery Menus & more information, click here.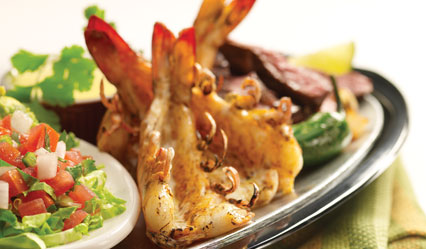 Pappas Catering specializes in buffet service and custom event design for cocktail receptions, weddings, lunches, dinners or corporate events. Our consultants will plan every detail of your event and coordinate any combination of services. We can help you select everything from menu and beverages, to décor and entertainment. Buffet staff is included in menu price.
Guest minimums apply.
For full-service Catering Menus & more information on Pappas Catering, click here.