Deliciously Unique - Seafood Cold Bar - Handmade Tortillas
Tableside Guacamole - Housemade Salsa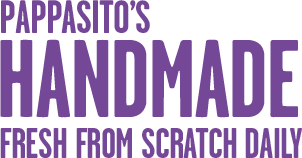 Our great food comes from great ingredients. We hold our staff and our products to the highest standards. This means in our kitchen, nothing comes out of a can. Meat, seafood and produce are shipped to our restaurants fresh every day, and everything is made in house, from scratch. From produce to poultry and everything in between, we check it all thoroughly, touching every product to ensure fresh, vibrant food each and every day.

We'll make your taste buds tingle with our Cold Bar, featuring fresh amazing shrimp and crab cocktails, and ceviche using our high-quality shrimp, scallops, fish and avocado, prepared fresh for you.

A Tex-Mex meal isn't complete without warm, soft tortillas, and our special recipe creates the fluffiest, most delicious tortillas. We've made our own fresh flour tortillas since Day 1, and in every restaurant. There isn't much better than a Pappasito's fresh, hot tortilla!
To make the finest guacamole, we start with the finest Haas avocados, which have a rich, buttery nut flavor, and ship them in daily from Mexico or California to ensure freshness. Our servers mash them right in front of you, adding bright, firm, juicy Roma tomatoes and other veggies, for the most delicious guacamole you've ever tasted.

Our pico de gallo and salsa start with our legendary "Coke-can red tomatoes" – firm, ripe, smooth and juicy tomatoes that you just can't wait to bite into. When we first started, everyone bought under-ripe tomatoes to avoid spoilage, but Harris Pappas changed all that, insisting upon the finest fresh tomatoes for the best flavor, and because we have our own distribution fleet of 240 trucks, we can make sure those ripe red tomatoes get right to the restaurant for you. We mix our perfectly roasted tomatoes and jalapenos with cilantro and red onions, to create a signature salsa you just can't put down.