Arlington
321 W. Road to Six Flags, Arlington, TX 76011
(817) 795-3535
11:00:00
21:00:00
1
21:00:00
00:00:00
0
11:00:00
21:00:00
1
21:00:00
00:00:00
0
11:00:00
21:00:00
1
21:00:00
00:00:00
0
11:00:00
21:00:00
1
21:00:00
00:00:00
0
11:00:00
21:00:00
1
21:00:00
00:00:00
0
11:00:00
22:00:00
1
22:00:00
00:00:00
0
11:00:00
22:00:00
1
22:00:00
00:00:00
0
sun – thur
11:00 a.m. – 9:00 p.m.
fri – sat
11:00 a.m. – 10:00 p.m.


With Pappasito's to-go, it's easy to bring the fun, flavor,
and sizzle to any event or party.
Call your order in at:
(817) 795-3535



Planning your fiesta has never been easier! We know you're busy and convenience is key, so next time you're organizing an office luncheon, or simply picking up dinner on the way home, get Legendary Tex-Mex on your own time. Place advanced orders and even pay ahead for a quick, easy pick-up!




Our banquet rooms and patios are perfect for fun, festive and flavorful holiday gatherings, social events, rehearsal dinners, and company functions. Our experienced Event Manager can help personalize any occasion. We're here to make sure your event sizzles.
This location has 2 Party Rooms.
The Matador Room
1 of 2
Capacity: 85
Room minimums may apply
Taking its name from its large matador mural, our Matador Room is the perfect setting for your next legendary fiesta. A full-size window wall will wow your Guests with a breathtaking view of our lush garden. Rich velvet curtains can be drawn changing the lighting or mood of the room or to aid in audiovisual presentations. The Matador Room's open floor plan allows the room to be divided for smaller intimate gatherings or quieter business meetings. With personal waitstaff that can accommodate your every desire, our Matador Room is perfect for your next family or business gathering.
Patio Grande
2 of 2
Capacity: 100
Room minimums may apply
With a view of our fountain with quiet sounds of rippling water in the background, Patio Grande is the perfect setting for your next romantic rehearsal dinner or fabulous fiesta. In the middle of a lush, tropical garden, a solid wood banister encompasses the room filled with striking wooden floors. Fully covered from inclement weather, three open walls remain to let the cool breeze blow through. Fans, heaters and clear sidewalls are available to help create your desired temperature. Patio Grande will make your next outdoor event memorable.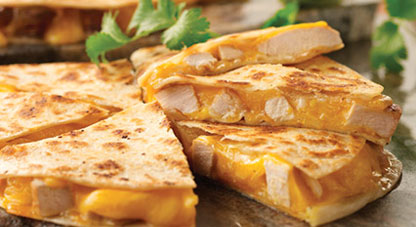 Menus
Presently, we do not offer buffet options at our locations.
Table Arrangements
As specified by our local government, tables and chairs must remain as set; however, our Event Manager can help you decide on the most attractive and effective arrangement for the nature and size of your occasion. Furthermore, please remain seated at your table whenever possible and avoid mingling. Lastly, face coverings are required when away from your table.
Decorations
At this time, due to local government guidelines, no decorations or other materials are allowed on dining tables.
Extra Services
Equipment such as projection screens, televisions and media players may be reserved for a minimal charge. Some locations include separate audio systems per private room.
Guarantee
Menu confirmation and final guest headcount are due two business days prior to the scheduled event. Otherwise the guaranteed minimum listed on your contract will be considered the final count.
Deposits
A deposit of $50.00 is due on the date of contract to reserve the room(s).
Payment
We accept cash payments, Visa, MasterCard, American Express, Discover and Diners Club. No separate checks, please. For your convenience, corporate accounts may also be arranged. Tax and gratuity will be added to all parties.
Booking Your Party
To ensure availability, we recommend confirmation as soon as possible on the private dining room you are requesting. During peak seasons, including the Christmas holidays, we recommend that you book your party 30 to 45 days in advance.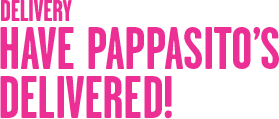 Perfect for your next business meetings, conferences or special event - we'll bring your Pappasito's favorites straight to you. Our delivery staff will unload and display your order buffet-style in disposable aluminum containers, so you don't have to worry about a thing. Order minimums apply.
For Delivery Menus & more information, click here.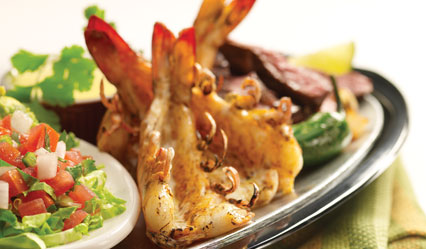 Pappas Catering specializes in buffet service and custom event design for cocktail receptions, weddings, lunches, dinners or corporate events. Our consultants will plan every detail of your event and coordinate any combination of services. We can help you select everything from menu and beverages, to décor and entertainment. Buffet staff is included in menu price.
Guest minimums apply.
For full-service Catering Menus & more information on Pappas Catering, click here.